Vision Laser
Cutting System
by Golden Laser
®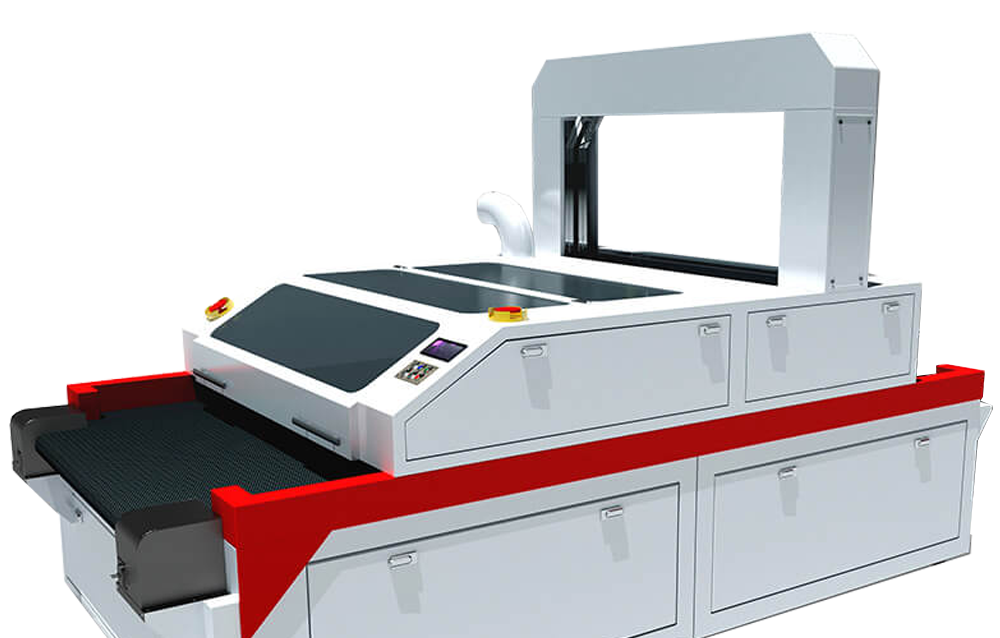 Sublimation Fabric Laser Cutter for Sportswear
Vision laser cutting machine is ideal for cutting digital printing sublimation textile fabrics of all shapes and sizes. Cameras scan the fabric, detect and recognize printed contour, or pick up on printed registration marks and cut the chosen designs with speed and accuracy. A conveyor and auto-feeder is used to keep cutting continuous, saving time and increasing production speed.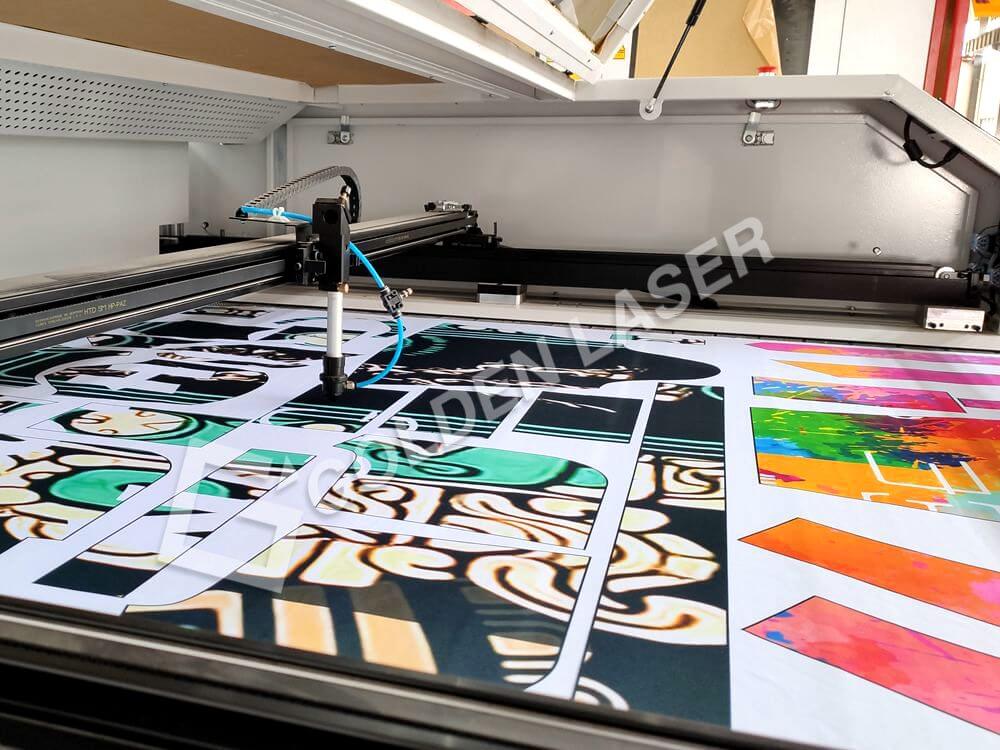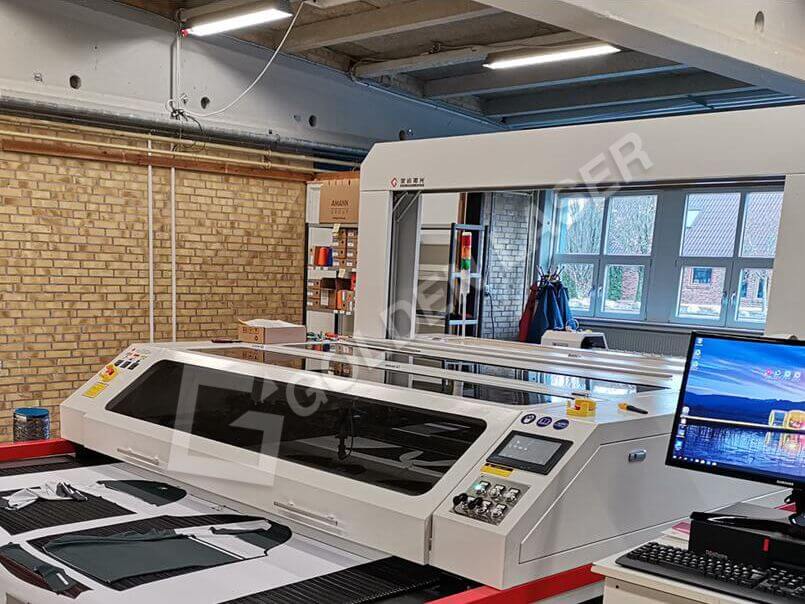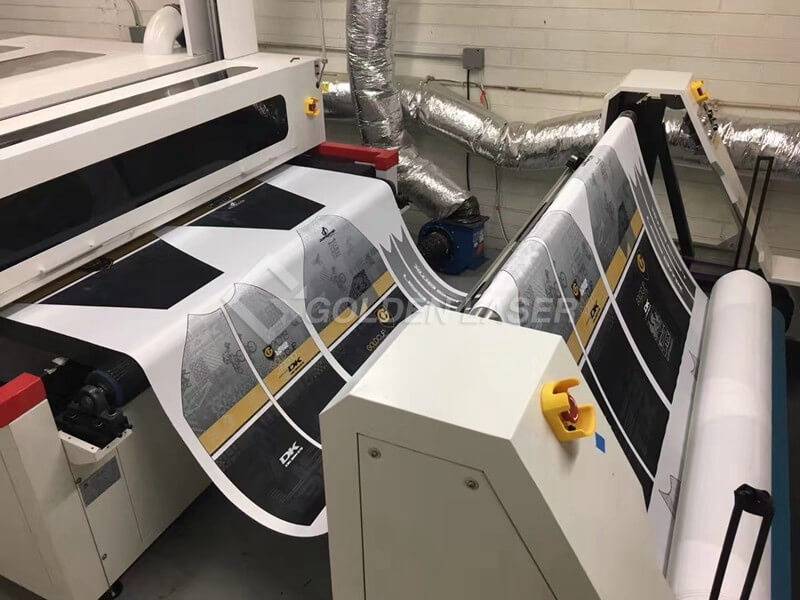 Automatic scan creates vectors.
While the sublimated fabric roll is being fed on the conveyor table, the vision system performs a fast scan on the fly and automatically creates a vector file. It allows an optimum use of printed fabrics due to the vision scanning technology that scans the entire bed within 5 seconds before starting the cutting process.
Alternatively, the registration marks can be accurately read by the camera, allowing intelligent algorithm to compensate for any distortions or stretches that may occur in unstable rolls of textile.
Clean workspaces included.
A conveyor bed and auto-feeder is used to keep cutting continuous, saving time and increasing production speed.
The Extension table makes picking up the cut pieces a thing of the past. Utilizing these two benefits will keep your projects moving, cutting waste and creating an effection and streamlines work flow.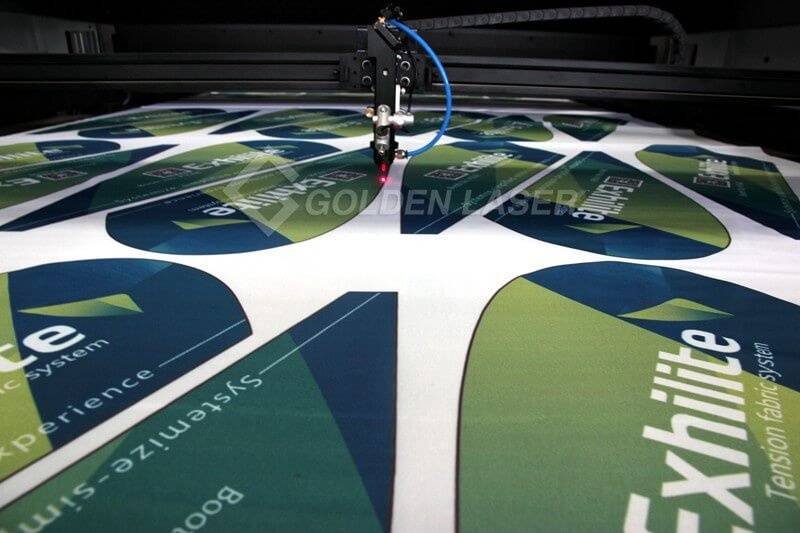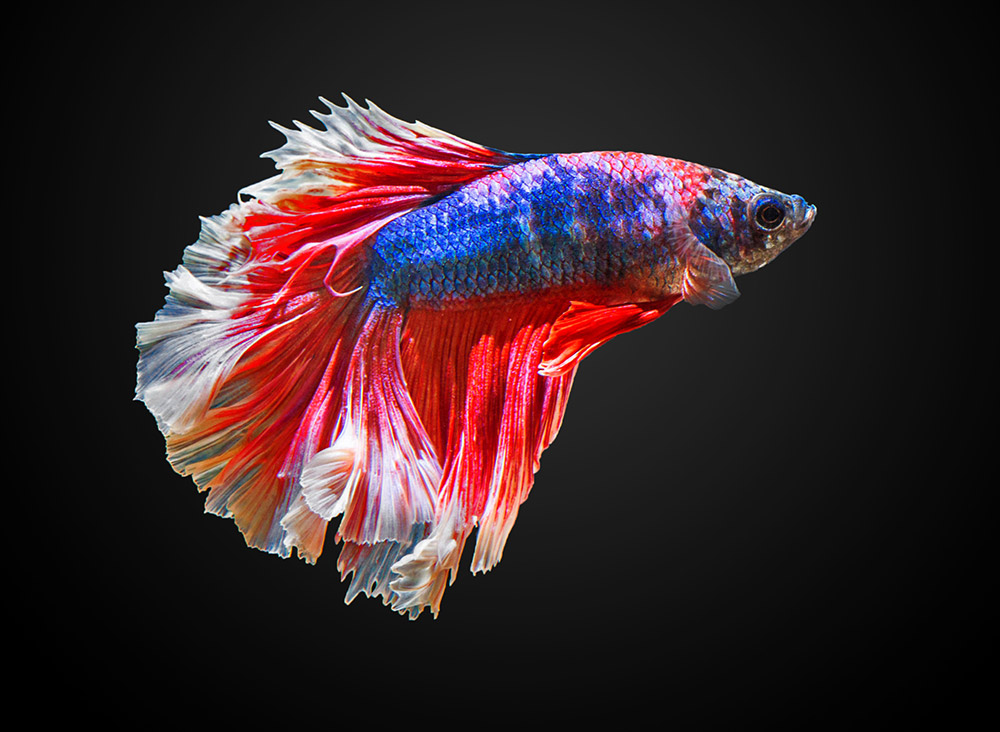 Leasing & Warranty
Interested in leasing? We got you covered. We've partnered with Geneva Capital™ to bring you financing options. Use the link here to get started.
Warranty covers the parts but not the shipping. Customer is responsible for payment of shipping charges both to get the part and to return the defective part. Local customers can pick up for free. In cases that can't be resolved remotely by the customer with the help of tech support, the customer would be responsible for crating and shipping the printer back to our warehouse. Installation & Training By Advanced Color Solutions, Inc.
Specifications
Main Technical Parameters of the CJGV160130LD Vision Laser Cutter
| | |
| --- | --- |
| Working Area | 1600mm×1300mm (63″×51″) |
| Camera Scanning Area | 1600mm×800mm (63″×31.4″) |
| Working Table | Conveyor working table |
| Laser Type | CO2 glass laser / CO2 RF metal laser |
| Laser Power | 70W / 100W / 150W |
| Cutting Speed | 0-600 mm/s |
| Precision Accuracy | ±0.1mm |
| Motion System | Servo motor |
| Software | Goldenlaser CAD Scanning Software Package |
| | |
| --- | --- |
| Cooling System | Constant temperature water chiller |
| Exhaust System | 1.1KW exhaust fan × 2, 550W exhaust fan × 1 |
| Power Supply | AC220V±5% 50Hz / 60Hz, Single phase |
| Power Consumption | 9KW |
| Space Occupation | 4316mm (L)×3239mm (W)×2046mm (H) (170"×127"×80" ) |
| Options | Auto feeder, red dot pointer |
Work Flow
WORK MODE 1 → Scan on the Fly
Requirement
The printed outline and materials background have big color difference, distance not less than 5mm between the contours.
Only the outer contour can be cut, the inside nested graphics cannot be cut.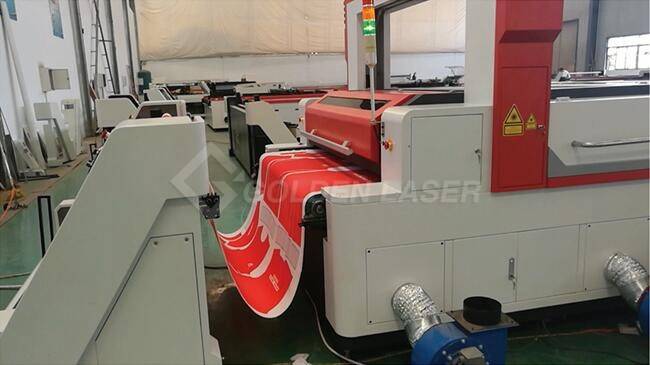 Step One
Loading the dye-sublimated roll fabrics to the conveyor working table of laser cutter with auto-feeder.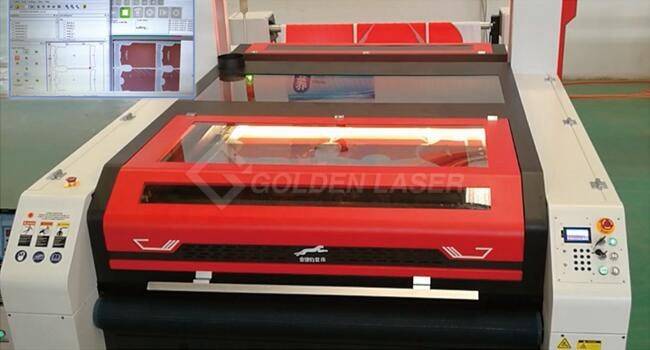 Step Two
HD Cameras scan the fabrics, detect and recognize the printed contour, and send the information to laser cutter.
Step Three
Set the cutting parameters. Press "start" button on laser cutter. Then the laser cutting machine will do cutting automatically.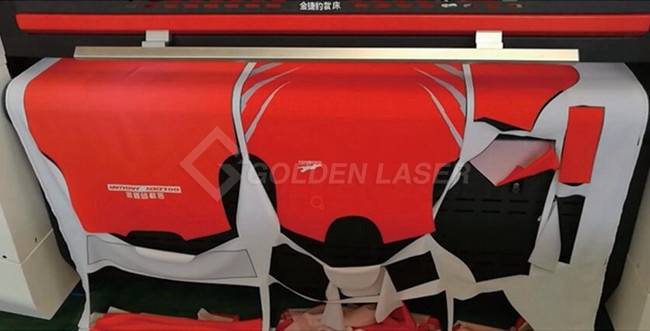 Step Four
Laser cutting and repeat the while process.
WORK MODE 2 → Scan Print Marks
Application
For soft materials easy to distort, curl, extended
For complicated pattern, nesting pattern inside the outline and high precision cutting requirement
Requirement
Need 1:1 original printed graphics file. Graphics format: *.jpg, *.bmp, or *.png
Application
The latest innovation in laser cutting of dye sublimation printed fabrics and textiles.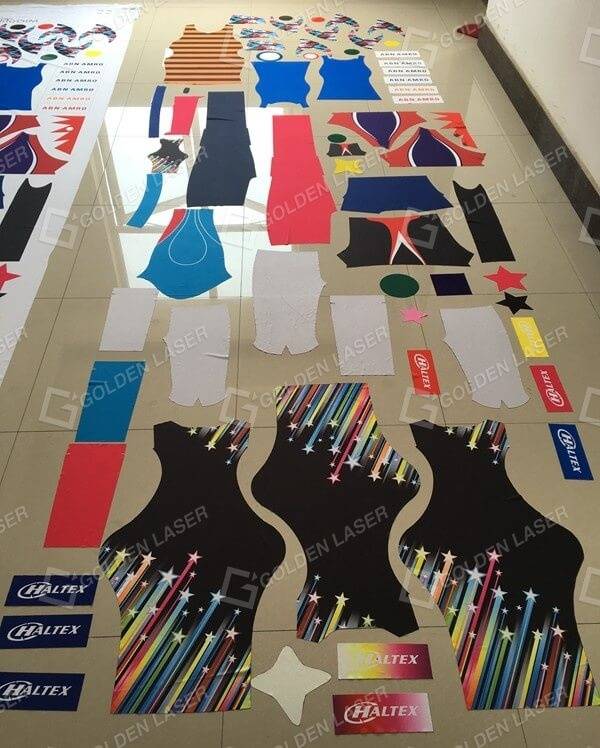 Videos
See our machines in action and explore everything each has to offer with some of our educational videos.
Start A Conversation
Interested in finding out more about one of our products?
We'd love to chat with you about how we can help you grow your business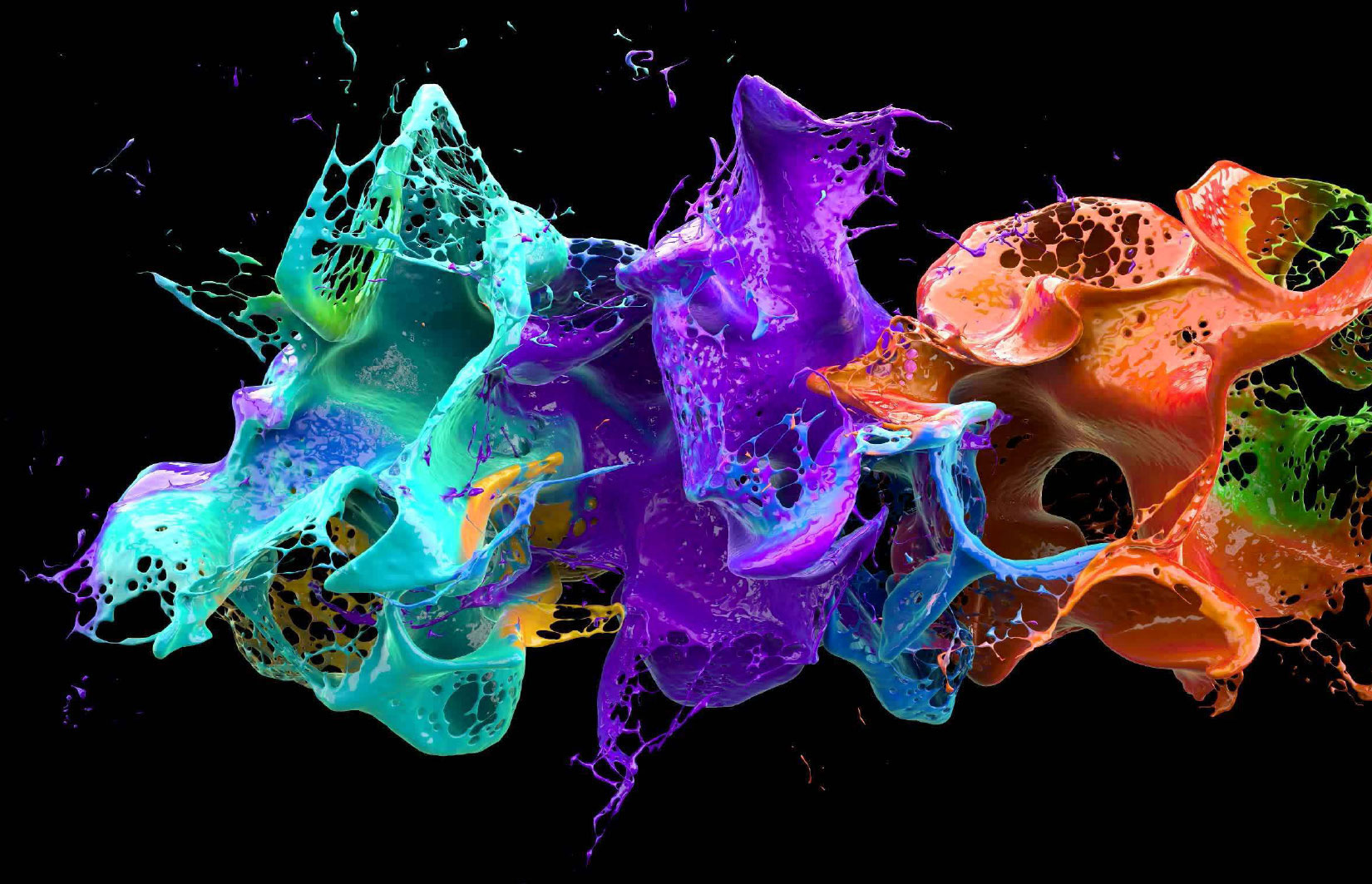 Hours of Operation
Monday to Friday: 9am – 5pm EST
For same day shipping on in-stock items, new orders must be submitted by 3pm EST
©2022 DTF2u.com. All Rights Reserved.